Lake District Cottages in Grasmere Lake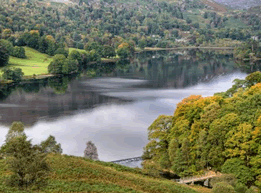 Once a home to William Wordsworth, Grasmere has become a highly poular tourist destination in the Lake District. The very pretty village buildings are mainly 19th and early 20th Century and well worth a visit.
Grasmere Lake is one of the smaller lakes. Its waters are navigable with private boats and rowing boats, but not powered boats.
Find a self catering cottage or apartment in the Grasmere Lake area below.
Lake District Cottage Favourites in Grasmere Lake
Simply run your mouse over the images to find out more.
Search by type of cottage holiday in Grasmere Lake
See More Cottages in Grasmere Lake
See all towns in Grasmere Lake
Chapel Stile cottages - Grasmere cottages - Hunting Stile cottages -
Content for id "clearer" Goes Here